See on Scoop.it – Productivity, Leadership, & Technology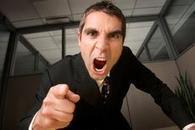 Many of us remember our worst leaders and for some of us we still are working with them.
Below are 7 signs to find out if you are reporting into a bad leader. Feel free to respond with other signs that you think are worthy noting.
#7. You email updates to your leader and he/she never reads them
#6. You're told you have to work late on a presentation that's never used
#5. Your leader asks you to do something on Monday (something that normally takes a week to complete) and you are asked on Tuesday if it's already done.
#4. You tell your boss you can't get it done and all he/she repeatedly says is "why?", no matter how good of a reason you give.
#3. Thinks he/she is always right and is just plain stubborn
#2. Has no life and works under the impression that you don't have one either
#1. Only manages up, not down
For those of you interviewing, here are three simple questions you can ask your potential leader:
1. If I asked your employees about what you could improve as a leader, what would it be?
2. How do you foster a work/life balance environment within your team?
3. What keeps you busy outside of work?
See on www.psychologytoday.com