See on Scoop.it – Productivity, Leadership, & Technology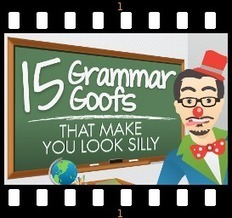 Writing for a small business audience? Your content should be sharp and reasonably free of common grammatical errors. This visually appealing right-brain graphic inspires left-brain content production.
It's A Doggone Shame!
In a guest post he wrote for BasicBlogTips, 5 Ways Your Blog Might Be Irritating People, Mitch Mitchell names "grammar" as his number 2 pet peeve (with spelling following right on its heels).
Where did you learn to write like that? Most of the time people don't ask that question because they like the way you write, and that's a shame. Everyone isn't perfect; I get that. However, I see more people that write worse than they talk, and that's a shame. I like to think I'm one of the few people I know who writes much better than I speak; that's a shame as well but at least in writing I'm not bad. — Mitch Mitchell
See on www.localbusinesscoachonline.com